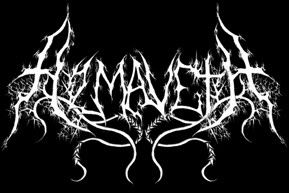 Well this is my inteview with the atmospheric black/ death metal from Puerto Rico. Enjoy!
Metalerosal: When and how was Azmaveth started??

Ancient Prophet: Well, Azmaveth born in 1999 when the spiritual decadence and the lack of preaching the word of God was present in the metal scene, but the idea was really conceived in 1998 by this servant when God call me back to the scene after fifteen years absence from the stage.


Metalerosal: Azmaveth is a pretty biblical name. How did you come up with this name to your band?

Ancient Prophet: Before we were call Azmaveth, we had another name "EXOUSIA" but two months after we started the ministry we found that there was another band with the same name, so we pray for a new name and one day studying the Bible we found the name Azmaveth who was one of the braves of King David and which name means "strong as death" for us this is the attitude a Christian must have in front of the World's pleasures, to defeat them.


Metalerosal: Which is the current line-up of the band?

Ancient Prophet:

Ancient prophet – vocals
Abiel Kurios – keyboards
Moon Dhy - bass guitar
Dany Arnion– guitar
Tony Shabach - drums


Metalerosal: What your lyrics and music talks about?

Ancient Prophet: Our lyrics talk about diverse topics, from the implications of false doctrine and how these doctrines destroy the human being and their repercussions, we also talk about God's Magnificence and His Sovereignty and the work's redemption of Christ.


Metalerosal: What are your main influences?

Ancient Prophet: Our influences went back from the 80's metal (thrash, power, doom, death, black and etc...) and to today's metal. But our true inspiration is Christ, then bands like Crimson Moonlight, Antestor, Lengsel and Sympathy.


Metalerosal: How was your music accepted by the metalheads?

Ancient Prophet: In our country like in other countries is not easy, is like been sword against the wall, that's because we are accepted by some and rejected by others, We are been rejected because many people did not understand the music neither God's call and they close in their own precepts and not in God's will that looks for the World's redemption by the Holy Blood of His Son.


Metalerosal: Azmaveth has already released some material, are you working/ recording new material so far?

Ancient Prophet: Azmaveth recorded a material in 2003 but it not see the light of day for different problems and struggles, but the struggle went to an end and God reward His servants once again and the material will be release soon for the glory of God the Father, Now we are working on the new material that will be more aggressive, everything is working really good.


Metalerosal: What label are you planning to release your new material with?

Ancient Prophet: Bombworks Records.


Metalerosal: How do you classify your music?

Ancient Prophet: We classify our music as atmospheric black/death metal but many people classify us in a different way.


Metalerosal: Any Label interest?

Ancient Prophet: Sure, in the future we will like to work with a major label.

Metalerosal: Any Closing comments?

Ancient Prophet: Thanks to all the people that in a way or another help us thru this pilgrimage name Azmaveth, without your prayers and wise advise we will never get to the place in which we are right now and most important thanks to our Lord Jesus Christ for his everlasting love.




Ancient Prophet from Azmaveth
Visit: www.myspace.com/azmaveth