A band Called Destroyer of Darkness, which talks about War against Satan, Hailing from Brazil delivering their Extreme True Black Metal. I interview Lucifer who is the man performs Vocals for the band. Enjoy.
Metalerosal: What's your name and what you perform in the band?
Lucifer: My name is Uriel(Lucifer) and i am Vocal on the band .
Uriel (Lucifer)
Metalerosal: The Name Destroyer of Darkness is a very nice name that show us, absolutely war against Satan, How did this name for the band come up to your mind?
Lucifer: Our intentions was destroy all darkness jobs... So I think the name fit our band like a glove.
Metalerosal: When was this band started?
Lucifer: We started at july, 2001
Metalerosal: What is the current line up of the band?
Lucifer:

Vocals – Uriel
Guitar(solo and bassist) – Walisson
Guitar(basis) – Julio
Keyboards – Rodrigo
Bass – Eduardo
Drums - Haroldo
Metalerosal: What inspires you guys in the mood of making music?
Lucifer: I can't explain this in a easy way.... I guess we only get together and ideas come naturally.
Metalerosal: What are some influences of the band?
Lucifer: We dont have a model or any kind of influences of any other bands. We just try to play our music like we like to play.
Metalerosal: The sound is pretty much old school, how do you classify it?
Lucifer: I guess its only Black Metal
Metalerosal: I've heard your demo Ao Vivo Which is a very Old school black metal demo, but the production is kinda low, even though is a pretty nice wicked stuff, Have you released more material besides Ao vivo?
Lucifer: Not yet, but our CD is coming up in the end of this year.
Metalerosal: Are you planning to released more material from your band?
Lucifer: Yes... like i said above. The end of the year will be our realease date.
Metalerosal: The scene of Christian Metal bands is growing in Brazil, What can you tell us about that?
Lucifer: It's really growing and i am very happy about this, but unfortunately we are seeing too many bands that couldn't go far like we are trying to.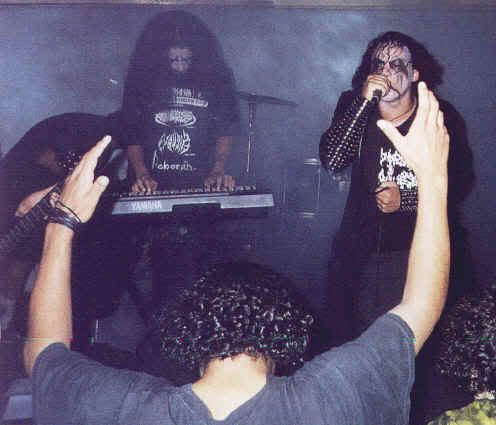 Metalerosal: What are your future plans for the band?
Lucifer: Release our CD in the end of the year, and after this realease we will realease a video-clip of one of our songs.
Metalerosal: Are you planning to work with a Label in the future?
Lucifer: Yes, but its something that i can't tell much more about it for now.
Metalerosal: Want to tell something to people who is outside without Christ?
Lucifer: The time are coming over e the judgement day is about to come, and only one who can serve Jesus Christ will be save.
Metalerosal: Any Final comments?
Lucifer: I aprecciate the oportunity to answer this interview and i hope that the information that we provide here could be aprecciated too.
God Bless You All and thank's again.
God Bless You Lucifer, and Thank you for the interview!!!